It's my final event of 2021! Thank you to everyone who has adapted to virtual visits during the pandemic – you've made this technophobe's year! I know these events are not the same as in-person events but I've been thrilled to see how engaged and interactive pupils have been so THANK YOU very much to all who have come along to events this year!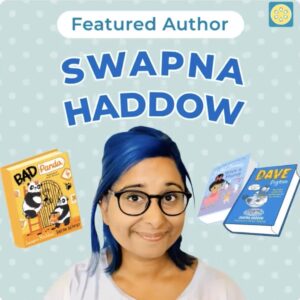 Today, I got to read a bit of Bad Panda with the students of Neobael. We had a Q&A and I thought I would share some of their fantastic questions, inspired by Bad Panda, with you in this post:
Neobael Q: What is your favourite animal?
Me: I love dogs. They are so happy and loyal and anyone who knows me knows the love of my life is my dog, Archie.
Neobael Q: Have you ever met a bad panda?
Me: I haven't! I was very lucky to spend time volunteering at a panda sanctuary in China and all the pandas I met were adorable and well behaved. (Lin, the star of Bad Panda, would hate me saying that!)
Neobael Q: Do pandas really do whooper carpark-sized poos?
Me: Here's a fun fact: pandas do up to 40 poos a day! It's true. Thankfully they don't do them all in one go so you never see a carpark-sized poo but they do poo a lot.