Sheena and I are back from a visit to Sharjah Children's Reading Festival. I have to admit I had mixed feelings when we were first approached, by our publisher, with the offer to visit the United Arab Emirates. It is no secret that opinions on attendance at literary festivals in UAE have proved divisive within the UK children's publishing world.
The 'Think Twice' campaign headed up by two prominent book lovers in the book community calls for UK authors and illustrators to boycott the Emirates Festival of Literature, a Dubai government initiative, on the grounds that the sponsors of the festival violate human rights and have no regard for climate change. Whilst their campaign targets the Emirates Festival of Literature and not the Sharjah Children's Reading Festival in particular, much of their agenda felt significant to our upcoming trip.
I have always felt strongly that I would try never to turn down visits to schools, libraries and festivals. Boycotting events seems, in my mind, only to serve as self-censorship. Ultimately our visits aim to bring the joy of reading, illustrating and story-writing to children, at an age when they're developing their taste for literature and we, as authors, have a chance to help build readers for life. Whilst the 'Think Twice' campaign gave me food for thought, I questioned how a potential boycott would serve to vocalise my thoughts. Rather than a boycott, I wanted to see for myself what the festival was about and have an open dialogue about the very valid issues raised by the 'Think Twice' campaign.
We arrived in Sharjah on Tuesday and were straight off to an after school club for children at the American University of Sharjah the following day. We ran a villains illustration workshop and created a brand new story for Dave Pigeon and Skipper that took the feathery pair on an adventure through a junkyard into the lair of a killer pigeon, who was keen to eat Dave, and out through a secret tunnel into the woods.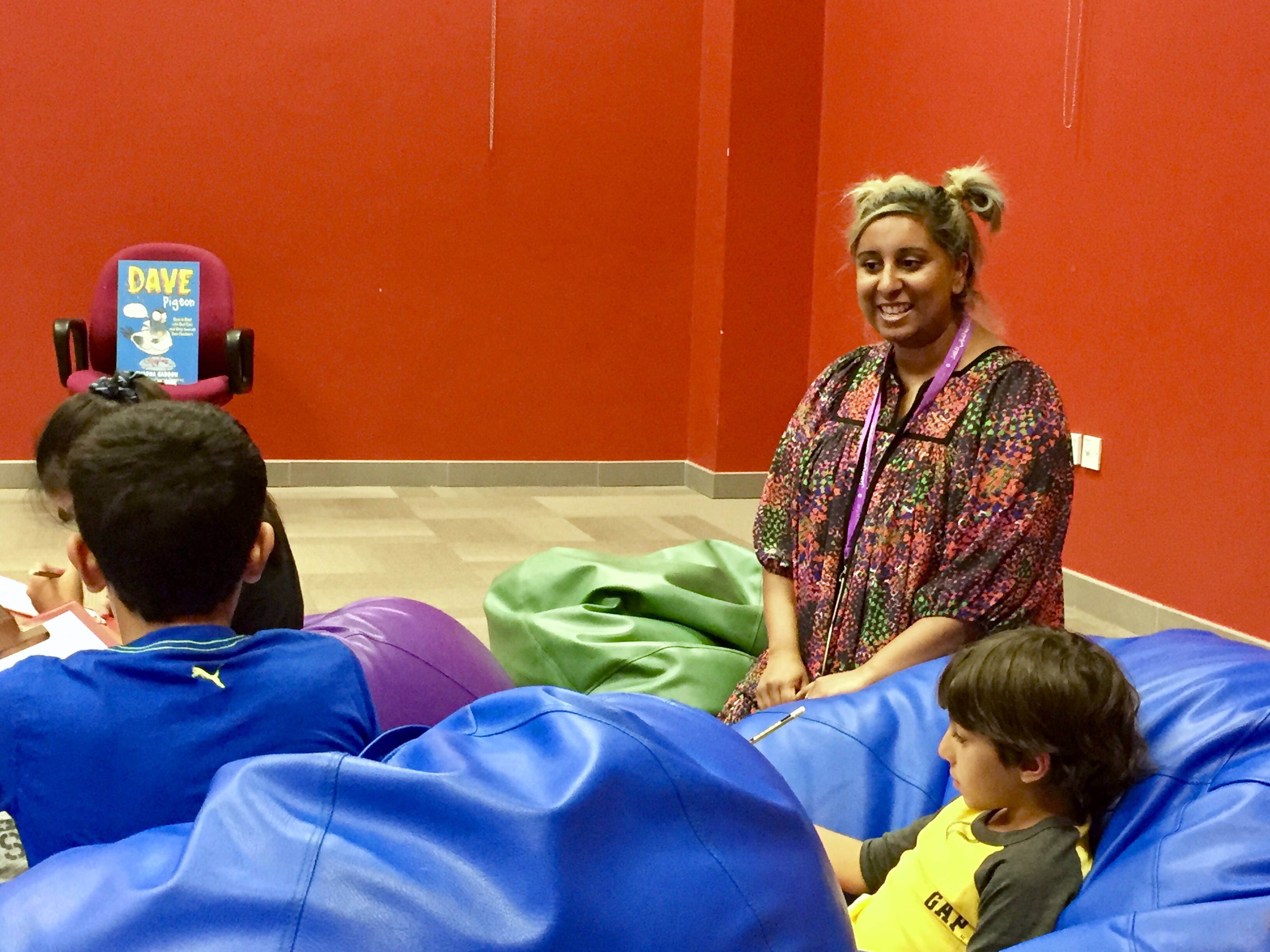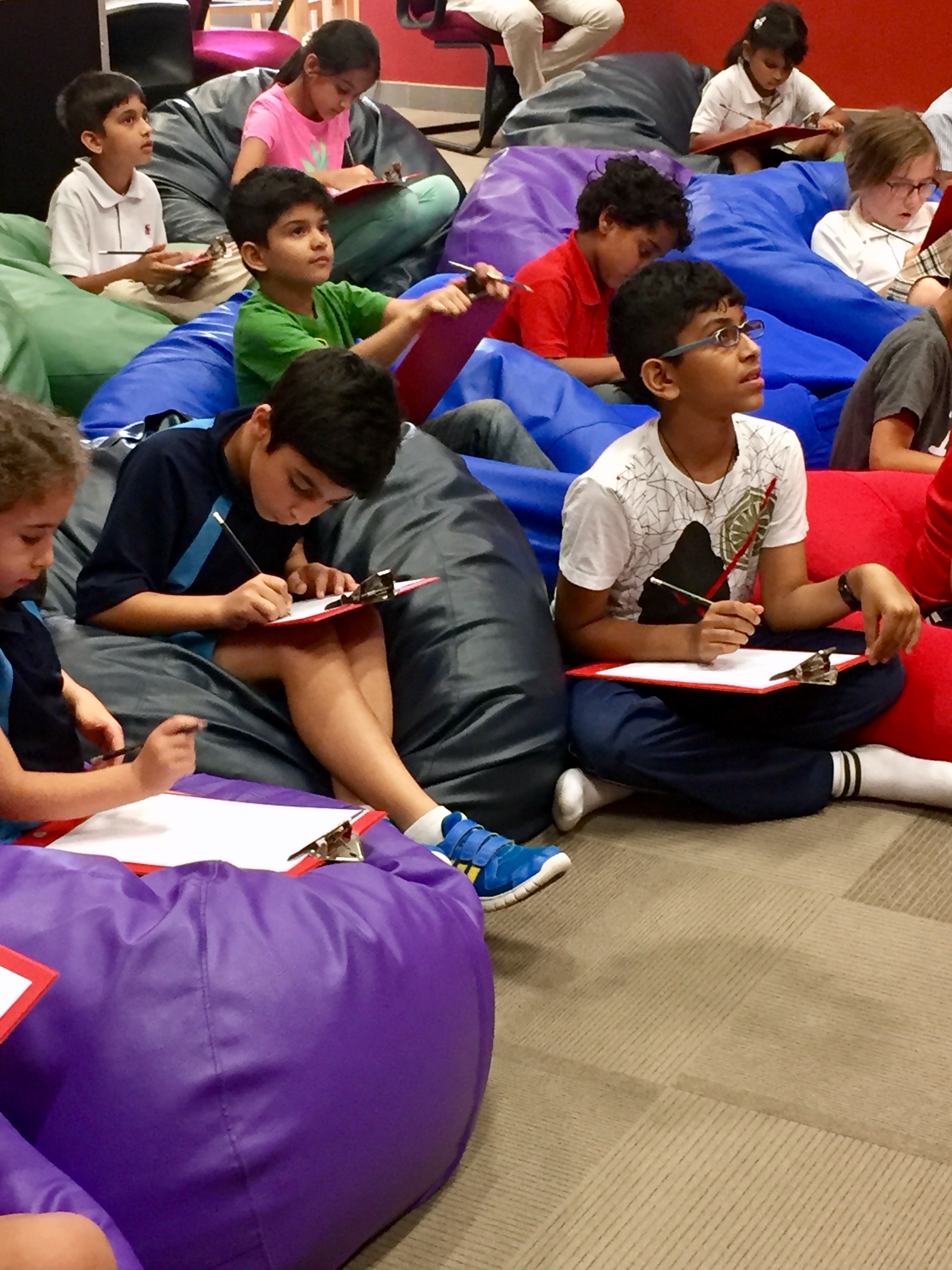 Later that evening, Sheena joined a panel discussing the role of illustration and the importance of visual literacy, with May Tobias-Papa and Linda Abdel Latif.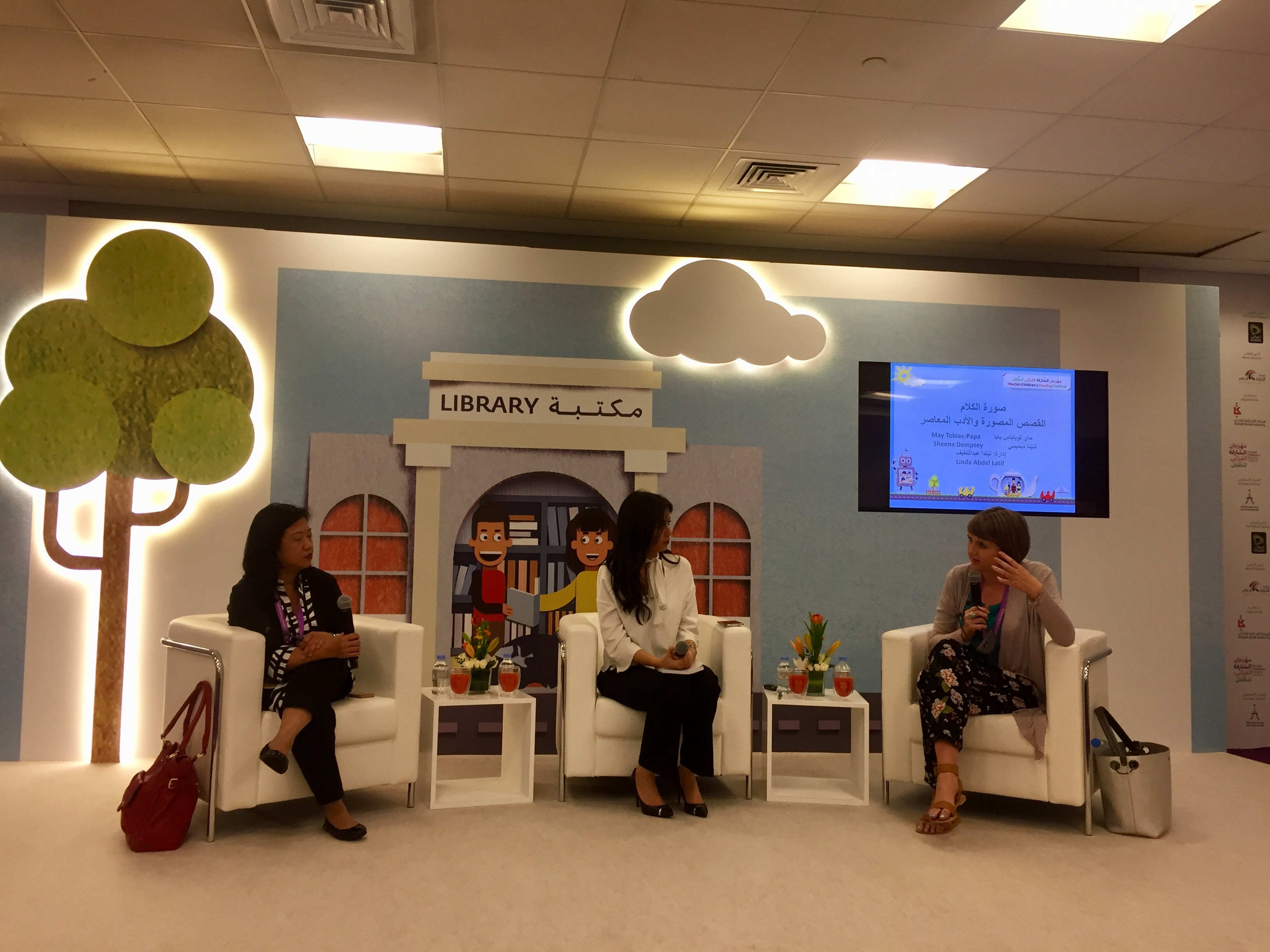 It was interesting to see how the role of illustration was changing with new media, particularly as the Philippines seemed to embrace new technology for children's literature in a way that seemed light years ahead of the UK. Worldwide there was common consensus that illustrators needed to be recognised in the same way that writers are and that there is someway to go in recognising the role of an illustrator as a co-author, especially with regard to picture books.
The next morning Sheena and I visited the Gems Millennium School in Sharjah and met the kindergarten children and the pupils of both Year One classes.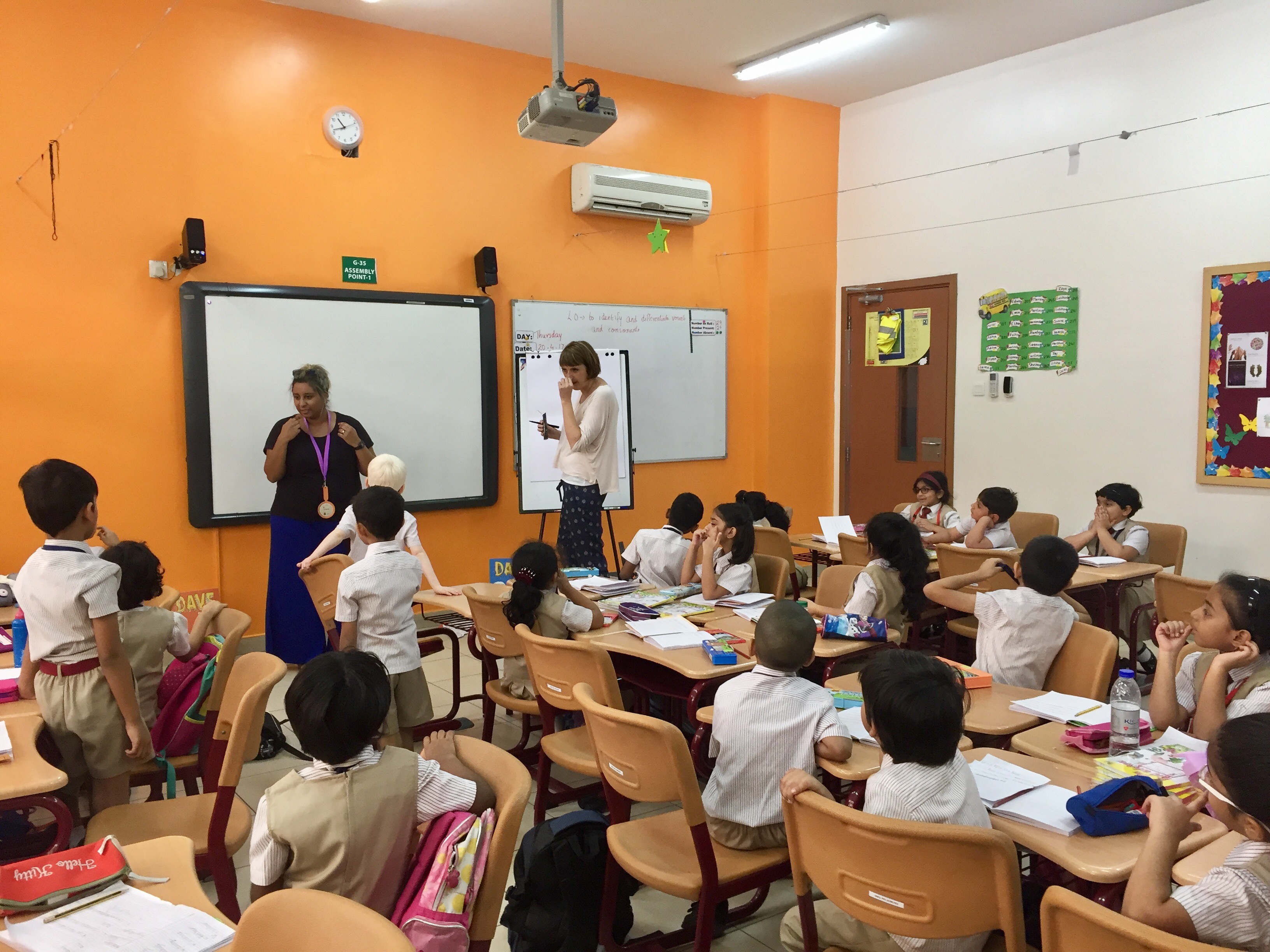 The children helped us create not one but three brand new villains before working on their own illustrations of baddies to terrify their teachers with.
I then joined Frane Lessac, Latifa Batti and Mohammed Ghobashi, back at the festival, in a panel where we discussed our books and the universal importance of passing down stories from generation to generation and creating a passion for reading by telling stories to children in a nurturing way.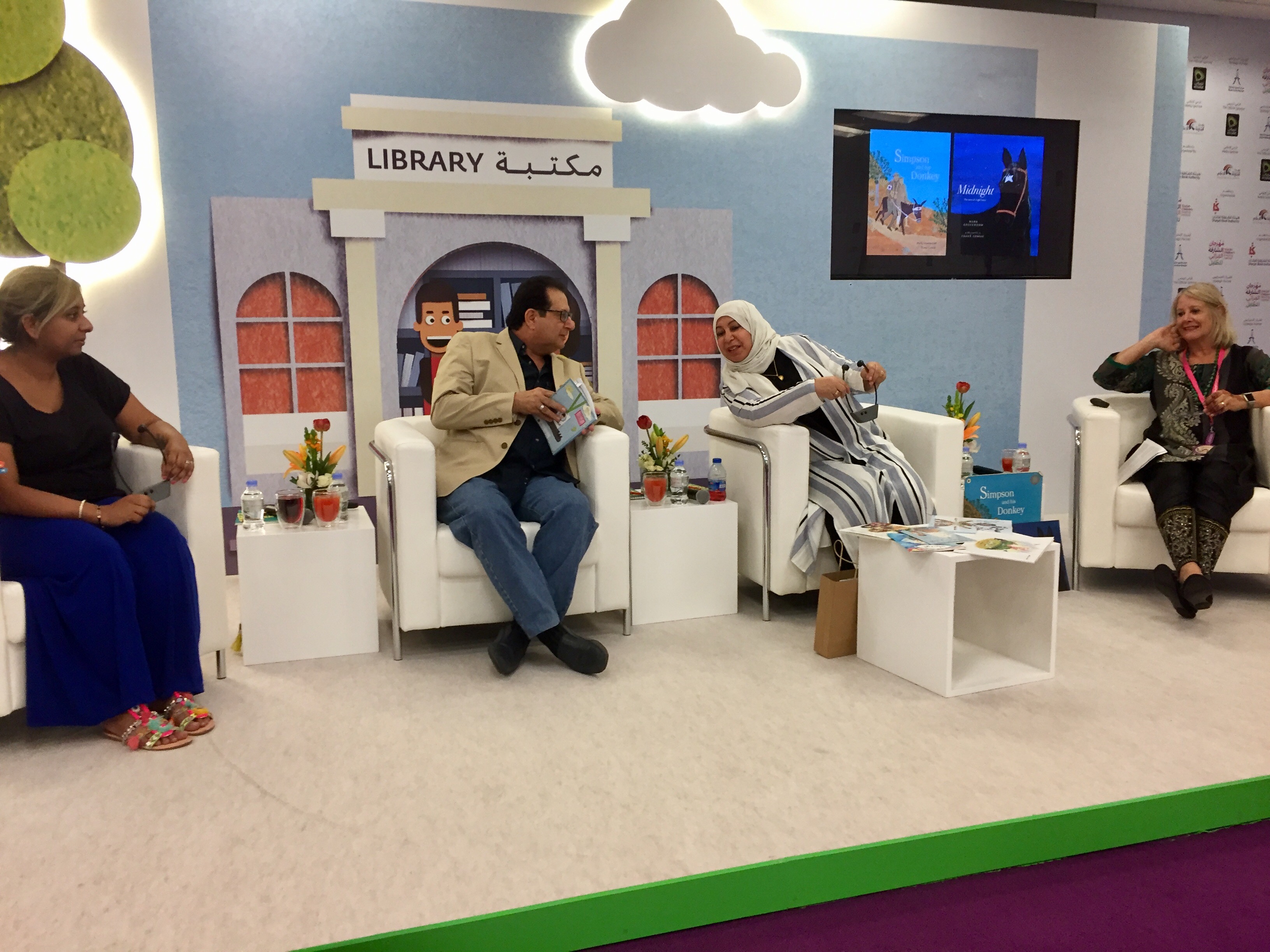 Turning the pages of a book with a child, in the lap of a parent or grandparent or trusted elder, seemed to be common ground around the world for turning youngster into readers for life.
All the while the thoughts of the 'Think Twice' campaign churned over in my mind and the panels proved the perfect opportunity to broach an open dialogue about these issues.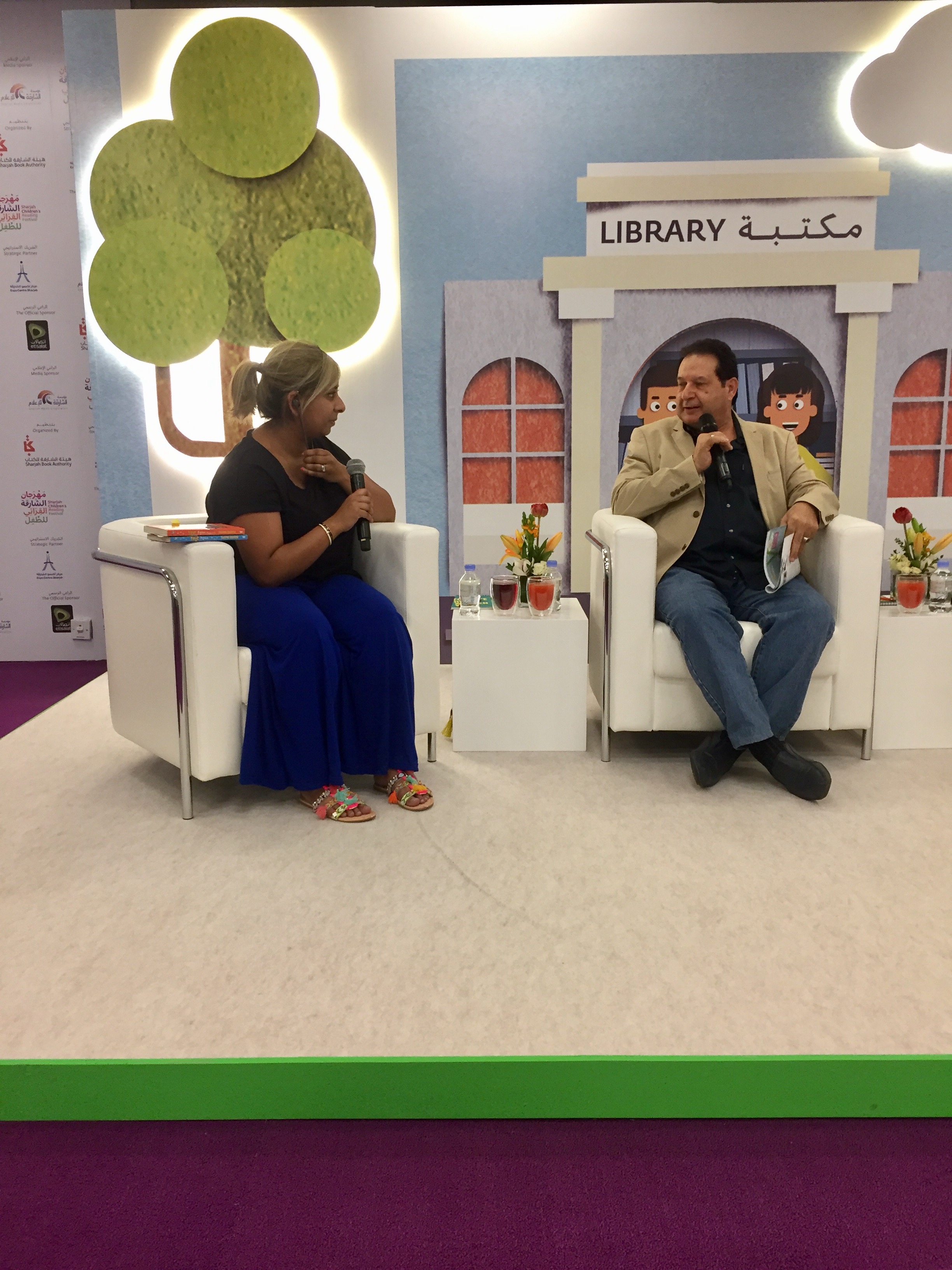 Both Sheena and I talked about how shared reading allowed children to find out about a world beyond their own, to experience cultures and talk about issues of war, immigration, refugees and female empowerment in a way that felt comfortable and natural to them. All the panellists agreed that publishers should take risks in dealing with this kind of subject matter, matter that could be deemed difficult to sell, but the truth is there is a demand for these books. Reading creates empathy and what's more, children needed and wanted to see books that reflected their current world.
This is a trip I will never forget and if I go away with one thing, it is that being in Sharjah and meeting the wonderful local people has helped to dispel a lot of myths I had about the Arab world.
Thank you so much to Sharjah Book Authority and Midas PR for such a kind invitation and for such a lovely trip.