This morning:
Gary the hamster produces the most colossal hamster turd known to hamsterkind (and by some inexplicable sorcery it has landed OUTSIDE of his cage)
It takes almost an hour to drop the son at Drama Club and then I realise I've forgotten his lunch
Not wanting to face the judgement of the Yummy Mummy coven by sending the son in with a McDonald's sack of food, I decide to venture home for his lunch bag
Midday:
Two hours later son is reunited with his lunch but has already exploited the situation to acquire a half-eaten jam sandwich from his best friend and strip of chewing gum from the surly work experience teen
This afternoon:
We come home to find Gary has repeated his dirty protest (note to self: if son asks for a pet and promises to clean up after said pet until the end of eternity, do not believe him for one second)
Remember for the two thousandth time today that the announcement of The Greenhouse Funny Prize is at 5pm and I commend myself for the self-control in waiting to check my emails until the afternoon but there are no new emails from The Greenhouse Funny Prize judges
Half an hour later:
Recheck emails and despair that I'm neither funny nor talented because there is no email from The Greenhouse Funny Prize
Early evening:
Check the Greenhouse Literary Agency's site to see which super talented authors have been shortlisted: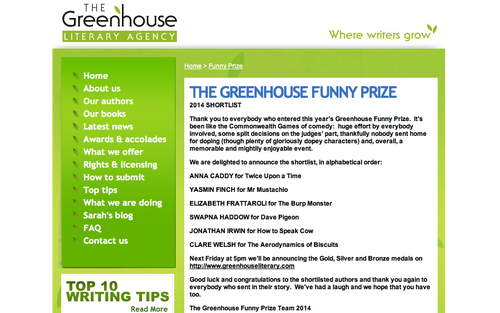 Over the moon, pinch me I'm dreaming, couldn't-care-less-that-the-husband-is-giving-me-the-'told-you-so'-look-after-my-4:30pm-melt-down, unbelievably delighted to see I've made the shortlist!
What a brilliant start to August (and it doesn't matter at all that I've had hamster poo stuck to the bottom of my left flip-flop all day)
Thank you Greenhouse Funny Prize judges!!