Yesterday my editor sent me a sample of work from a potential illustrator for Dave Pigeon. This is beyond exciting. Dave Pigeon will be an illustrated book and it's so important the right illustrator is chosen because the pictures do as much telling of the story as the words.
It got me thinking about the importance of illustrations and illustrators themselves in storytelling. I joined Twitter (rather reluctantly) late last year. I convinced myself for all these years that it wasn't for me but it turned out I couldn't have been more wrong. It is a fantastic platform to get in touch with others who are as passionate about reading and writing children's books as I am. In the few months I have been on Twitter a campaign to recognize the sterling job of illustrators has been
gaining momentum. The hashtag #PicturesMeanBusiness, spearheaded by children's illustrator and writer Sarah McIntyre, aims to make sure that illustrators are fully credited for their work.
As children, before we are able to read, we make sense of stories in books with pictures. Even though my son is now reading, we often flick through his books together, piecing the story together with the pictures. It gets him hooked on the book before we've started reading the words.
And then there is our family favourite We're Going on a Bear Hunt by Michael Rosen and Helen Oxenbury. I can't tell you how many times we have read this. By the age of three, my son knew all the words by heart. I remember reading an article in The Guardian by Jenny Uglow saying that 'when he wrote Bear Hunt, Rosen… said, he imagined a line of kings and queens setting out to hunt – but Oxenbury created an ordinary family, squelching through mud, tiptoeing into the cave, dashing back under the bedclothes. The final, wordless image, of the bear trotting by the sea, a lonely figure in the dusk, is all her own'. Some of the most wonderful bits of this book that we love so dearly as a family came almost solely from illustrator Helen Oxenbury.
The skill of an illustrator is to bring the words of the writer to life. It's a partnership to do the best storytelling you can. I really can't wait to work with an illustrator on Dave Pigeon. Dave is already primping his feathers ready for his photo call as we speak.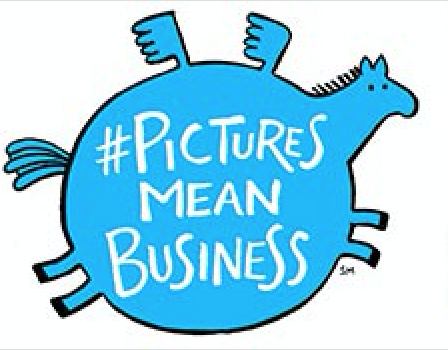 Illustration by Sarah McIntyre